If you are a poker traditionalist then you will understand that Multi Table Tournament matches may be great fun for the TV viewer to watch and Sit & Go games ideally suited to the online player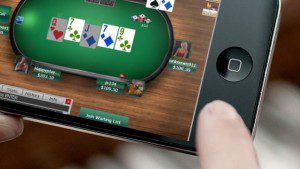 that wants a relatively quick poker fix. That said, there is only one game that really harks back to the game of Texas Hold'em as it was played for many years and that is the Cash Table game.
For many traditional poker players, the Cash Table game is the very essence of what makes Poker great. The ability to take on an opponent over hours, sometimes even days without the pressure of rising blinds or the need to completely eliminate them from the tournament is arguably the game at its purest and most psychological.
However, in this modern world, many people who play poker seldom have time to enjoy the luxury of whiling away hours and hours at the Cash Tables. Indeed, some people only have the chance to play a few hands each time they log on.
For the modern day online and mobile Cash Table fan this created a problem; how could they enjoy any meaningful cash table play if they didn't have the time to sit and play for hours?
The answer came in an innovative new game. Speed Poker, as it is known on Bet365. This is a variation of cash table gaming that lets players play through a far greater number of hands per hour compared to traditional cash tables games.
Remember, if you'd like to play Speed Poker, or any form of the game online, why not join one of the top sites available today? Click here for the latest Bet365 Poker bonus code to ensure you get the best deal when you sign up.
What is Speed Poker and how does it differ from a traditional Cash Table game?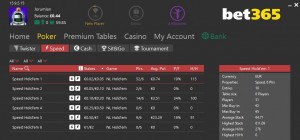 Speed Poker is a cash table game that only became possible due to online poker gaming. This is because it is played against a pool of other players who have all agreed to play for the same blind levels, rather than simply the people sat at your poker table.
At its heart Speed Poker is a cash table game that allows players to play through individual hands much more quickly. This is achieved by players being allocated to a new table the minute that they fold a hand, to play against a different set of players from the player pool.
What this means, is that you are either involved in a hand and playing at the table, or you can fold a hand and then move to a fresh table against players from your pool that have also folded or just joined the game and you will then be dealt into a fresh hand immediately.
The net result of this is that instead of having to wait until every hand is played out as you would at a traditional cash table, now if you aren't involved in a hand, you can get dealt in to a new one straight away. This means that the amount of hands you play per hour massively increases.
However, it should also be remembered that the more hands you play per hour, then the more you will be contributing to the pot in terms of the far greater number of small and big blind bets that you will be making.
They are the structural differences between traditional Cash Table games and Speed Poker, but by altering the structure of how players line up at the table and play the game, you also alter some of the key skills you need to be successful. We'll examine this in more detail when we look at some of the skills and strategies you need to succeed at Speed Poker later in the article.
First let's take a look at what type of stakes you can play Speed Poker for at Bet365 Poker.
What stakes are available to play Speed Poker at Bet365 Poker?
At Bet365 Poker, you can play Speed Poker for the following blind levels:
Speed Hold'em 1 – €0.02/€0.05 (Min/Max Buy In – €2 to €5)
Speed Hold'em 2 – €0.05/€0.10 (Min/Max Buy In – €4 to €10)
Speed Hold'em 3 – €0.10/€0.20 (Min/Max Buy In – €8 to €20)
Speed Hold'em 4 – €0.25/€0.50 (Min/Max Buy In – €20 to €50)
Speed Hold'em 5 – €0.50/€1.00 (Min/Max Buy In – €40 to €100)
Speed Hold'em 6 – €1.00/€2.00 (Min/Max Buy In – €80 to €200)
Although you can buy in for the stated minimum amounts, it is strongly advised that players buy in for the maximum amount, or as near to it, to ensure that they have enough chips to avoid being put under pressure to act relatively quickly in the game simply by paying the small and big blind amounts.
Speed Poker is available to play both online and also via mobile. The game has proven especially popular on mobile as users can play for a short amount of time but also play a large number of hands in that time.
The table size is ordinarily a maximum of six players at each table. The lower stakes Speed Hold'em tables are the most popular on Bet365 Poker and at less busy times, there may not be many, if any, players at the higher stakes tables on the site.
Do you have any simple tips for playing Speed Poker?
So if you are thinking of giving Speed Poker a try, then are there any simple tips you can follow to help improve your chances of being successful? We've put together a selection of simple tips that should hopefully point you in the right direction.
Always bring the maximum amount to the table – The more chips you have, the more you have flexibility in how you play and are not pressured into acting. So if you have €5 to play with, buy in to the €0.02/€0.05 stakes game for €5, rather than the €0.05/€0.10 game for the same amount.
Vary your play – Some players will tell you that playing tight at the Speed Tables is the best choice and for the vast majority of the time it is the right option. However, there are times when you need to break out of that mould and vary your play by speculating, especially if other players around you seem to be folding all but premium hands. By varying your play and playing more than just the top hands, you can pick up some very hand pot wins to keep your balance topped up.
Protect your big blind – One tactic a lot of players use to try and steal pots is to make a small raise when in position just before the Big Blind. Often this is a bluff and a re-raise when you have already committed the big blind to the pot can often lead to an insta-fold.
Don't overplay your monster hands – If you land a great hand, don't overplay it. Let other players aggression trap them by betting into you. Remember, making it look like you are thinking whether to play the hand, especially when you hold the nuts, will give other players confidence they have you beat and liable to bet more.
Don't play too many hands – Play a smaller range of hands for the most part. Remember with Speed Poker, you are always involved in a game so you only want to commit to hands when you think you have a strong chance of winning. Speculative play can prove costly if a player plays too wide a range.
You can play Speed Poker right now at Bet365 Poker either on the website, or from your mobile device.