Alongside soccer, horseracing remains one of the biggest and most important betting markets any online bookmaker can offer its customers, especially here in the UK where betting on the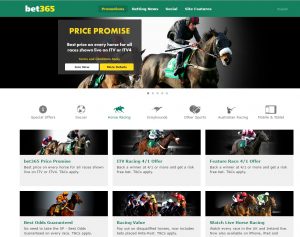 horses remains such an ingrained part of our culture.
With the horseracing industry so key for betting companies, it is unsurprising that top providers, such as Bet365 Sport, have devised a number of different promotional items to appeal to punters who enjoy regular bets on the myriad of races streamed every week.
However, there also comes a time when changes in the industry as well as within the company itself, mean that promotions needs to be altered, removed, replaced or fine tuned and that is precisely what Bet365 have been doing with their range of horseracing promotions.
What are the key changes to Bet365's horseracing promotional items?
From the long-standing range of offers at Bet365 Sport for horseracing punters there are essentially two changes to be aware of. One of these is a small change due to the channel that now hosts horseracing in the UK switching, the other is the withdrawal of a promotion which will now, sadly, no longer be available.
Channel 4/1 Offer becomes ITV Racing 4/1 Offer
After ITV outbid Channel 4 to become the new home of televised horseracing in the UK, this means that the popular Channel 4/1 Offer has now become the ITV Racing 4/1 Offer.
All that has altered with this promotion is the name of it as the mechanics of the promotion remain the same. That is, if you place a bet of £50 or less on any horse running in a live ITV race and your selection has odds of 4/1 or greater, then if your selection wins, Bet365 Sport will give you a free bet to the same value of your winning bet stake on the very next live race shown on ITV.
One small addition is that this offer will include all races shown live both on the main ITV Channel as well as the subsidiary channel ITV4.

Furthermore, if you keep backing winners at odds of 4/1 or better on live ITV races, Bet365 will continue to offer you free bets to the value of the previous winning stake.
Best Odds Guaranteed Plus offer removed
From the 9th January 2017, Bet365 Sport will no longer be offering their Best Odds Guaranteed Plus on horseracing or greyhound betting. This offer has been discontinued and at present there is not another offer to replace it, although this may well change in the future.
Of course, it is disappointing for fans of horseracing and greyhound racing to lose a promotion but it is worth viewing this in context as Bet365 Sport still continued to offer a large number of great value promotions alongside the Channel 4/1 Offer outlined above.
What does that leave us with when betting on the horses at Bet365?
The good news for punters is that even with the withdrawal of the Best Odds Guaranteed Plus offer, there's still plenty of great offers you can enjoy when betting on the horses at Bet365.
Best Odds Guaranteed – On any race where you can place a bet on the Win or Each Way betting markets, Bet365 offer punters a Best Odds Guaranteed offer. This means that if you take an early price on a race on a selection at 3/1 and your selections wins the race at odds of 4/1, then you will be paid out at the higher price.  Conversely, if you back a horse to win at 3/1 and the price shortens before the race and your selection wins, you will still be paid out at the higher odds. You can get this offer on any qualifying race on Board Prices, Bet365 Early Prices, singles, multiples and Showcase bets where a fixed price is offered.
Bet365 Price Promise – For every race that is shown live on ITV or ITV4, Bet365 will track the prices of all runners in every live race as offered by a selection of top bookmakers in the UK and will promise to at least match, if not better, the prices offered at other bookmakers. This means you can bet on any race shown live on ITV or ITV4 with Bet365 Sport, knowing you will automatically get the best price available on your selection.
Feature Race 4/1 Offer – On days when there is no live racing shown on ITV's channels, Bet365 runs a Feature Race offer which runs along similar lines. Each day Bet365 Sport will select a couple of races to serve as feature races. Back a winner in any of these races at odds of 4/1 or greater and Bet365 will offer you a free bet to the same value as your initial stake, up to a maximum bet value of £50. Your free bet is used on the next Feature Race. Continue to pick winners at 4/1 or better and you will continue to earn free bets.
Racing Value – Bet365 Sport also offers some other little incentives for punters to bet with them including paying out bets on horses that win races but are then subsequently disqualified by a Stewards Enquiry, Early Prices offered on every UK and Irish horse race, Enhanced Win and Place Terms offered for selected races throughout the year, no 5p Rule 4 Deductions and Showcast Exclusive bets on all UK and Irish horse races when prices are available.
Remember too that Bet365 Sport offers a full Racing Archive, which contains footage of a huge number of races from the UK and Ireland that have taken place over many years, which is an idea resource for punters that like to thoroughly research their bets before placing them.
In addition, if you place a bet worth £0.50p or more on any UK or Irish horse race, then you can watch a live stream of that race by logging in to your Bet365 account just a few minutes before the race begins. At this point, the live stream will become available and you can then tune in to watch the race unfold. This service is available on both PC's as well as a range of mobile devices such as iPhones and iPads.
All in all, despite the fine tuning, Bet365 Sport still offers an extensive and comprehensive service when it comes to betting on both horseracing and greyhounds and it is easy to see why the site remains the first choice for many UK-based punters when it comes to betting on their most favourite sport.