A couple of weeks ago, we brought you news of Bet365 Poker's big December promotion, Wrapped Up Rewards and how this could lead to you earning yourself a large number of prizes, including 25 presents every day and the chance to win cash as well as some top hardware such as the excellent iPad Mini.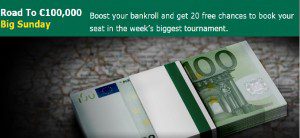 However, if you thought that this offer was all that was going to gift you the chance of a few extra bonuses this December with Bet365, then think again as this month also sees an exciting second offer' the Road to €100,000 Big Sunday promotion.
Not so long ago, Bet365 Poker used to hold a weekly event each weekend that boasted the biggest weekly prize on the poker site. For December, the Big Sunday poker tournament returns with a €100,000 prize fund guaranteed on each of the four Sunday's throughout the month (7th, 14th, 21st and 28th).
Of course, you can buy in direct into this weekly event for €69 plus a €6 tournament fee (€75) but thanks to the Road to €100,000 promotion, you could give yourself a chance of winning a chunk of the massive weekly prize money on offer in this single tournament for considerably less.
Indeed, you could win your share of €100,000 without spending a single penny of your own cash; only by depositing money into your Bet365 Poker account during the promotional period.
Remember too, even if you aren't a Bet365 Poker member now, you can still join and take advantage of this offer. Check out the latest bonus referrer code Bet365 Poker bonus information on this link for all the information you need to get the best deal when you sign up as a new player with Bet365.
Read on to find out how you could win big, for less with Bet365 Poker.
How do I qualify for the promotion?
To qualify for this promotion with Bet365 Poker, all you need to do is make a deposit or transfer into your Bet365 Poker account. Every time you complete a deposit or transfer of the minimum stated amount, then you earn yourself 20 Tournament Tokens.
You can then use these tokens in the Road to €100,000 freeroll events that take place every day throughout the week. There are five individual freeroll events each day, starting at 00:00GMT, with another at 12:30 GMT, 16:30GMT, 18:30GMT and finally at 20:30GMT. Entry into each event costs one token.
If you are eliminated from any of the freeroll events before the registration period expires, then you can use another of your tournament tokens to rebuy back into the same event. You can use multiple tournament tokens to enter the same freeroll event if you wish to do so.
What prizes are on offer?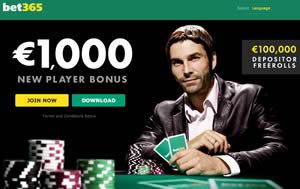 In each freeroll event there are €100 worth of prizes on offer for players to win. This includes a top prize of one €75 buy in into the next €100,000 Big Sunday event. The players who then finish in 2nd to 26th places will then earn one €1 Tournament Token for entry into the special On The Road to €100,000 – 10 Tokens Guaranteed event.
What is the On the Road to €100,000  – 10 Tokens Guaranteed tournament?
In addition to all the weekly freerolls that are slated to take place on Bet365 Poker linked to this promotion, each Sunday throughout December at 16:00GMT, the On the Road to €100,000 – 10 Tokens Guaranteed tournament takes place. This event can only be qualified for by finishing in 2nd to 26th place in the freeroll events earlier in the week.
All those players who qualify will then compete in this special event, where there are 10 entries into that evenings €100,000 Big Sunday tournament on offer, for a total prize fund of €750.
Simply finish in the top ten of the early Sunday event and you can confirm yourself a €75 ticket into the big money Big Sunday tournament later that evening.
Other things to note
There are several other things to note about the promotion, including the fact that unlike general Tournament Tokens awarded on Bet365 Poker, which can be used across a wide range of tables and events, the tokens you receive as part of the Road to €100,000 Big Sunday offer can only be used for the weekly Big Sunday freeroll events.
Furthermore, you have seven days from the receipt of each bundle of 20 Tournament Tokens that you receive to use all of them included within that package, otherwise the remaining tournament tokens will be void.
Remember, you can only receive a maximum of 20 Tournament Tokens per deposit you make with Bet365 Poker in the qualifying period, regardless of how much you deposit. However, you can receive more than one batch of tokens by making multiple deposits during the qualifying period.
For value hunters, this means that if you are planning to make a deposit with Bet365 Poker in December, then you are best avoiding making a single deposit of say €100, and instead, making two deposits of €50 or even five deposits of €20 in order maximise the number of free tournament tokens you receive for your money.
The €100,000 Big Sunday tournament
The final thing to note is about the Big Sunday tournament itself. This is a hugely popular event on Bet365 Poker and attracts a large number of players (there were 1576 confirmed entrants into the event held on the 14th December).
Each player starts with 10,000 chips and due to the size of the tournament, play begins at 18:00 GMT each Sunday, but will conclude at 01:00am on the following Monday morning.
However, the tournament will then restart at 20:00GMT on Monday evening and will be played until a conclusion that night, often finishing in the small hours of the morning.
Therefore, this is a tournament where a player needs to be able to dedicate a lot of time to, if they are to go deep into the tournament and end up cashing out.  If you are more a Sit & Go fan, or want speed poker, then this isn't the ideal tournament for you.
Alongside the Wrapped Up Rewards promotion that we looked at a couple of weeks ago, this allows tournament players, especially those who enjoy playing in big money, large field online tournaments, to enjoy a little extra fun in the run up to Christmas and New Year on Bet365 Poker.