If you have clicked on this offer and think you have clicked on last week's offer by mistake, then don't worry. The link isn't sending you to a wrong address and you aren't suffering from a sense of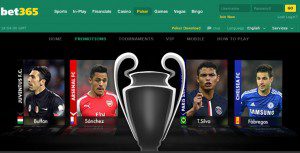 Deja Vu either! There is a good reason why this week we are once again looking at Bet365 Poker's Team of Champions promotion.
As you will be aware, from the middle of February right the way through until the start of March, Bet365 Poker ran its Team of Champions promotion once again. This promotion, which ties in with the UEFA Champions League, has always been a popular offer for customers and so it proved once again this time around.
So much so, that Bet365 Poker have decided to start another Team Of Champions promotion with immediate effect, so starting on the 9th March 2015, you can once again try and plot your way to glory by completing your team and progressing through the rounds on your way to securing a Bet365 Poker bonus.
However that isn't all that's available as if you earn a player card for your team then you'll be entered into the next daily prize draw with €1,500 in prizes up for grabs each day, including a top prize of a fabulous iPad Mini 2.
There are essentially two aspects to the promotion, the daily prize draw and the cash prizes available for successfully completing your team in each phase of the tournament, so we'll examine how each works in more detail below.
Of course, you do need to be a Bet365 customer to participate in this promotion, so why not join today to claim the updated and improved Bet365 sign up bonus specifically suited to poker fans.
Building your team
The basis of the offer is that players play real money games at any cash table on Bet365 Poker. As they play these games, the players earn merit points for playing. At each stage of the Team of Champions, a player can trade in merit points for coins at the rate of 1 coin for every 2 merit points earned.
However, if you play on the Premium Cash tables at Bet365, then you earn one coin for every merit point earned, thus you earn your coins twice as quickly.
For the Group Stages of the competition, you only need to earn two coins to earn a player for your team. However as you progress into the knockout phase, the number of coins you need to earn per player increases.
In the Round of 16, you need 10 coins per card, it is 50 coins per card in the quarter finals, 200 coins per card in the semi finals and lastly 500 coins per card in the final.
However, as you progress through the promotion by completing your team of 11 player cards for each round, you guarantee yourself a cash bonus when you progress pas the round of 16.
Here you'll receive a €1 bonus for completing your team, but that increases to €5 if you manage to complete your team in the quarter finals, €20 if you do the same in the semi finals and lastly €50 if you go all the way and complete your team  in the final round.
You progress onto the next round simply by completing your team of 11 players, so once you have earned all 11 player cards for the Group Stage, you will then start building your team for the Round of 16 stage and so on, until the promotion ends on the  23rd March 2015.
All the player cards involved in the competition feature some of the biggest names from the UEFA Champions League, such as Chelsea midfielder Cesc Fabregas, Barcelona ace Lionel Messi and Real Madrid's top man Cristiano Ronaldo.
However, this offer is not solely about populating your team with star names by playing poker on Bet365. There is another key aspect to the offer which makes it so appealing to players and that is the daily prize draw, which we will look at in more detail below.
Daily prize draw with €1,500 worth of prizes
One of the very best things about the Bet365 Poker Team of Champions offer is that you don't actually have to complete a team to earn a top prize in the competition. Indeed, if you are lucky
enough, you can even earn yourself just one player for your team and you could be walking away with a fantastic prize.
That is because every time you earn a player for your team, you also earn yourself an entry into the next daily prize draw. Every day the competition runs from the 9th March through to the 23rd March, Bet365 players will earn themselves players for their team. Each player they earn in any one 24-hour qualification period will earn them a prize draw ticket in the next prize draw the following day.
Every prize draw sees 200 individual prizes available to be won, allocated as follows:
The top prize for the first person drawn out of the hat is an iPad Mini 2 (or a cash alternative of €210). Second and third place will receive €100, 4th and 5th €50 while those finishing 6th to 10th will receive €25 each.
The next tickets drawn 11th to 25th will receive €15, 21st to 50th receive €10 apiece while those drawn 51st to 100th will receive €5. Lastly, those drawn 101st to 200th will each receive €2.50.
Players can earn up to 11 prize draw tickets for each draw and every ticket has a chance of winning a prize, which means you could potentially earn multiple prizes, either from different prize draws throughout the promotion, or even multiple prizes from the same draw.
Given that this offer is available across all cash games on the Bet365 Poker site and app, this means you can access this offer from a desktop/laptop PC as well as via your mobile through the mobile-compatible site or through the new Bet365 Poker app.
Want to learn more about the Bet365 Poker mobile app for smartphone and tablet? Click here for everything you need to know about Bet365 on the go.