If you are a relative newcomer to the online poker scene and have decided to join Bet365 Poker, what can you expect? What kinds of signing bonuses and newbie tournaments are you able to participate in? What is the design of the Bet365 poker site like and can a newcomer easily find the different types of cash games, sit & go or multi-table tournaments they want to play in?
In this article, we hope to find out some answers.
Signing Up at bet365 Poker
Signing up with Bet365 Poker is very simple; once you have entered your details and registered you are prompted to download the Bet365 Poker client software, which installs onto your system and gives you direct and quick access to the poker rooms at a click of a button.
From here, you can navigate your way across the site checking out your information on the tabs across the top of the screen. In the My Account tab you access all your personalised information, other tabs allow you to alter settings, check out the latest promotions, search for a particular player (handy if you have a friend or two on the site and would like to play with them), as well as the Contact Us tab for any queries you may have.
All the different types of Poker games available, Scheduled games, Freezeouts, Rebuys, Satellites, Freerolls are accessed from tabs down the left hand side of the screen. At the bottom of the screen you can check out your current level of VIP Merit Points, your current balance and how many points you require to earn a ticket.
Merit Points and Tickets are Bet365's reward scheme for players and they give users a chance of winning prizes on a regular basis. Points and tickets are earned by playing poker on the Bet365 platform.
bet365 Poker Sign Up Bonuses
One of the most attractive aspects of Bet365 are its sign up bonuses. New players receive two primary rewards: cash bonuses and tournament entries.
Review sign up bonuses for all bet365 products – including poker, casino and sports – here.
Cash Bonuses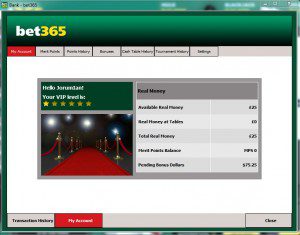 If you are a brand new customer to Bet365 poker, you immediately receive $5 completely free, no deposit required, to play with initially. In addition, on your first deposit, you can earn up to 200% of your deposit in free cash (so if you deposit $500, you'll earn the maximum $1,000).
This cash isn't added to your account immediately, but is instead drip-fed into your account as you accrue Merit Points while playing on the site. Once you earn sufficient merit points, then Bet365 allow you to use a percentage of your bonus cash to play with.
You can check your current real cash available as well as your points balance, VIP level and any bonus dollars you may have by clicking on the My Account tab which brings up the screen to your right.
New Player Tournaments
As a new player you can gain access to two new player tournaments. You gain entrance by earning yourself a token, first by making a deposit and then you complete the offer by taking a quiz at Bet365's PokerUniversity.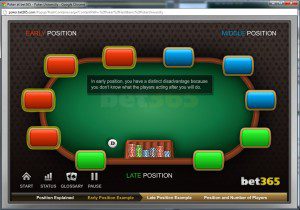 This is a novel way to ensure that new players have at least a basic grounding of knowledge in the game. Upon enrolling at the Bet365 University, you have an option of three 'courses'.
Hold'em Basics (successful completion of which grants you a tournament token for the New Depositor Freeroll held each Wednesday 7.30pm GMT)
Beginner Strategy (which grants you a tournament token for the Poker University Freebuy held each Thursday at 7.30pm GMT)
Advanced Strategy (which offer you a boost of 250 Merit Points into your account to use towards your choice of VIP rewards)
Whether you "pass" a course depends on how well you do in the quiz at the end of each course. The course explains the main aspects of each game and tests you on that knowledge.
bet365 Site Design – Potentially Overwhelming
As a new player, Bet365 Poker is packed with features, but I have to say that the site design is a little confusing initially. There is so much information packed onto the screen, especially when it comes to the different tournaments, that finding one to suit your needs can be a little daunting.
Also, you are unable to access the Bet365 Poker University direct from the Poker screen, which is a rather silly oversight and means you have to log into it using your username from another browser window.
Over time, you will get used to the site, but its initial design can put people off as it is not the most user friendly, though the actual poker tables themselves are very, very clear and easy to follow.
In short, Bet365 Poker has everything you need to enjoy a game as a beginner. The site design could be better, but if you can persevere with that, take your quizzes at the University to get all your free entries to tournaments and 250 free Merit Points and with the 200% bonus on your first deposit, it is a good site to use to start playing poker.