Way back in 1978, British funk band Hot Chocolate hit the charts with one of their most popular songs Everyone's a Winner and in 2015, Bet365 Poker will soon have a promotion running which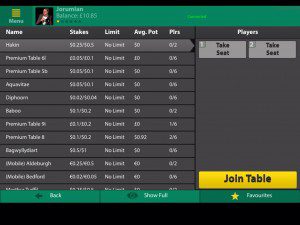 invokes the very same spirit as this original track.
Following on from the success of the different December promotions that we featured extensively on these pages and in conjunction with the €100,000 Big Sunday promo that runs until the 31st January 2015, Bet365 Poker are set to offer their customers a chance to win some big prizes as part of its brand new promotion.
Everyone's a Winner
This is the Everyone's a Winner promotion and this new promotion starts on the 12th January 2015, running through until the 15th February 2015, giving users just over a month to enjoy the benefits of this latest offer.
Although the exact conditions of this offer are yet to be confirmed, it seems from the preliminary blurb that this new promotion will be very much like several previous Bet365 promotions in that it is aimed primarily at cash table players, notably those that like to play on the Premium Tables.
What we do know is that the format of the offer will be based on a prize draw system, where players will earn tickets into a daily prize draw by playing on the cash tables. Tickets are usually earned at the rate of 0.5 tickets per 1 Merit Point earned while playing at the tables, however you can earn tickets at double the rate (1 ticket per merit point) by playing on the Premium Tables.
Promotion will especially appeal to Bet365 mobile players
The good news about this type of offer is that it allows mobile players to really get involved in the promotion. Seeing as the Bet365 Poker app allows access to only the cash tables (plus speed poker), this can be a little restrictive for sit and go and tournament fans, but in promotions such as this, it means you can maximise your earnings by playing on the go.
Remember, you can now download a brand new Bet365 Poker app for both Android and Apple devices to participate fully in this promotion. You can download the Android version of the app direct from the Bet365 mobile-friendly website, whereas Apple users can download the Bet365 Poker app from the App Store.
Through playing on the cash tables and premium tables each day, players will earn tickets into a prize draw. The more tickets you earn, the more chance you have of being awarded one of the top prizes available in the prize draw.
While the cash prizes have not yet been announced officially at the time of writing, there is at least one fantastic iPad Mini available everyday for the lucky prize draw winner. Several other players will also win one of several different cash prizes of differing amounts. Based on past Bet365 Poker promotions, we expect these prizes will range from several hundred Euros to around five or ten Euros for a larger number of ticket holders.
The full details of the promotion will be revealed just prior to the start date of the promotion on Monday 12th January 2015, so remember to head down to Bet365 Poker to take advantage of this great new year offer and give yourself a chance of winning a top cash prize, or perhaps a piece of sublime Apple hardware.
The Everyone's a Winner promotion not the only chance you have to win big money throughout January with Bet365 Poker however as the sites €100,000 Big Sunday promo is still very much running and proving to be very popular with members of the site.
Remember, make a deposit or transfer into your account of at least 10 Euros and when you do, you'll receive 20 Tournament Tokens for entry into the daily freeroll events that are running across the site at this time.
Win one of these freeroll events and you'll earn yourself a seat in the next €100,000 Big Sunday Final. If you finish from 2nd to 26th then you'll receive a ticket for a special satellite tournament which will see a further 10 seats in the Big Sunday main event handed out to those finishing in the top 10 positions of that tournament.
The daily freerolls for the Big Sunday promotion take place throughout the day starting at midnight and then at 12:30GMT, 16:30GMT, 18:30GMT and 20:30GMT, ensuring that there are a number of possible times you can try and win your way into one of the biggest weekly tournaments available in the UK.
The Road to €100K ten tokens satellite event takes place every Sunday at 16:00 GMT and the only prizes are on offer are the ten €75 tournament tokens offering a direct buy in to that evening's €100,000 Big Sunday final.
Both of these promotions mean that if you are a new customer with Bet365 then you have a great reason to enjoy some top quality poker, either via the website or your mobile, right from the first month of 2015.
If you are not yet a member of Bet365 Poker then these two exciting new offers are a compelling reason to join. You can also ensure that you get all the fantastic introductory offers due to you by checking out our regularly updated Bet365 bonus codes page, which will ensure that if you do decide to join, you'll receive the maximum benefit for doing so.
Remember also, even if you have joined an existing Bet365 site, such as Bet365 Sports or Bet365 Casino, then you can still quality for the Bet365 Poker offer, provided that you have finalised any outstanding bonuses you had running with these sites. If your bonus has expired and you have no other bonus deals running, simply make a deposit or transfer cash into your Bet365 Poker account and you'll be able to take advantage of a great sign up offer, even if you have already realised a bonus with Bet365 Sports, Bet365 Vegas, Bet365 Casino or Bet365 Bingo.