Building up a bankroll is one of the key skills you need to develop as a poker player and doing so isn't an exact science. Your ability, current form at the table and of course, a healthy slice of luck all mean that increasing your bankroll from its initial starting point is not a formality.
After all, not everybody can do an Archie Karas and gamble $50 into a $40m fortune (and then lose it all over the space of a few weeks).
However, part of the problem is that often players don't pick the right games to play on a poker site in order to help them build up a decent sized bankroll.
In this article, we aim to help poker players of all abilities make the right choices about which games you can play on a particular poker site, in this case Bet365 Poker, in order to help you build up your bankroll in the quickest time possible.
Before we look at some of the games to target on Bet365 Poker we need to understand that there are two assumptions we are making before we get into the main point of this article.
The first of these is that you are a poker player of at least average ability. If you are a beginner player, then the likelihood is you will make more mistakes, which will impact the chance of you being profitable even if you select to play all these types of games below. Therefore, we are assuming you are already a player who is able to play to a decent standard and who has had experience of winning these types of games many times online previously.
That doesn't mean you are a playing at the level of Phil Ivey or Doyle Brunson, but simply that you have had good poker experience online and have experienced winning on these games relatively often.
The second assumption we are making is that you are starting with a bankroll of around £500. If you are starting with a bankroll considerably less, then you should scale down the games and tournaments listed accordingly. So if I stated that if you have a £500 bankroll and should play in a game with a £10 buy in, if you had a £50 bankroll, you should play in a game with a £1 buy in.
With these two caveats understood, lets now take a look at the best games on Bet365 Poker that can help you build up a bankroll quickly, effectively and with the least amount of risk to you as a poker player of average, or better, ability.
If you haven't already joined Bet365 Poker then get the latest Bet365 Poker bonus codes to ensure you get your full started bonus when you join.
£0.10/£0.20 Cash Tables (preferably the Premium Cash tables)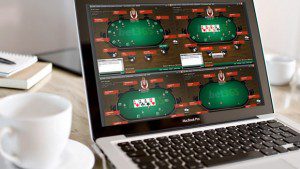 The reason I have selected this cash table buy in over the others is that I think for a £500 buy in, taking 100x the current Big Blind (£20 in this case) is always a good idea.  however on the €0.25/€0.50 tables available, you would need to take 10% of your total buy in with you (or thereabouts), which is too big a percentage of your total available cash.
As such, I think the fact you limit your losses to 1/25th of your total bankroll if you lose all your money, but have the opportunity to win considerably more, is a solid option.
Remember though, you would need to be a solid cash player table and exhibit the patience and skills required to be a solid cash table player. That is very different to the skills you need to be successful playing tournament poker.
However, if you are a solid cash table player then this is a great level to start at and if your bankroll starts to increase in size, you can move up to the higher level tables relatively quickly.
Alternatively, if you are losing money, don't be tempted to try and chase your losses by playing for higher stakes, move down the tables to cheaper games and recoup your losses that way, rather than risking more, especially when you are on a bad beat.
The reason I have suggested playing the Premium Cash tables on Bet365 Poker is because play on these tables earns you coins as part of the Bet365 Poker loyalty scheme twice as quickly as playing on the regular tables. Therefore, if you'd have earned 10 coins on a regular table from your play, you'll earn 20 coins playing on the Premium tables.
This means realising your bonuses is easier to achieve as you can reach the thresholds required to trigger the bonus payments in double-quick time.
Double Up Games (€10 to €30 buy in)
If you want to keep the odds on your side, or if you are in the middle of a bad run on the cash tables, then Double Up games offer you statistically the best chance of success as you don't even need to win the tournament to earn a payout. All you need to do is finish in the top 50% at your chosen table and you'll double your buy in at the losing players expense.
With a £500 buy in the €10 to €30 games are the ideal choice, but only if you are experienced enough as a player to ensure that you can win slightly more often than 50% of the time. That is a tough ask, but if you are a talented enough player, it is possible.
Therefore, if you are a serious player, keep a track of your games and your winning percentage. Also, don't play the same level games time and time again, you may find the same players facing you on a regular basis and they'll get to know your game and your weaknesses, making it tougher for you to win against them.
Statistically, you have a 50% chance of success in these games, so play it tight and sensible and use your skills to tilt the odds in your favour and you can find Double Up games on Bet365 Poker are a profitable way to play.
€10 and €5 Twister Poker
One of the most popular forms of the game and quickly becoming a mainstay on a number of sites, Bet365 Poker's Twister Poker offers you a superb chance to play for any amount of money from double your stake, up to 1,000 times your buy in.
This 3 player game is quick to play and features a spinning wheel which outlines at the start of each game what you are playing for. Most of the time it is a double-your-money option, but the more you play the more chance you have of playing for more than that.
Given that you are randomly assigned to a table against two other opponents for a randomly assigned amount, this is a great way to boost your bankroll quickly, especially when you are playing on the more expensive games, where you can often play for several times your buy in against relatively inexperienced players.
Twister Poker h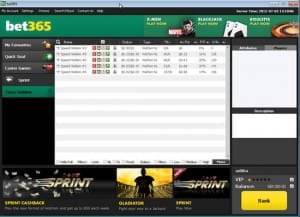 as really taken off as a format and now a large number of sites are offering this game to their customers, and with only two other opponents to defeat, this is a game that a solid player can find very profitable.
£0.10/£0.20 Sprint Tables (especially if you play via mobile)
If you are a player who enjoys the game via a mobile, then unfortunately Bet365 only offer a choice of cash tables, or Sprint poker games to play from your chosen device. However, if you are looking to build your bankroll away from your desktop then the Sprint Poker tables are a good place to start.
Of course, you can play in the cash tables outlined in section 1 above, but Sprint Poker is a different discipline as it is designed for players who have limited amount of time to play but who want to play as many hands as they can in this time, thus when you fold a hand, you are dealt immediately into a new hand against other players from within your buy in player pool.
If you have a solid cash table game and can play comfortably and confidently at a faster pace then Speed Poker is a good way to boost your bankroll and the beauty of it is, you can play for 5 minutes or 50 minutes and still enjoy a worthwhile game or two.