Have you, like many other Bet365 Poker customers, been wondering what has happened to the usual missions promotion for July? Well you are not alone, thousands of customers that were very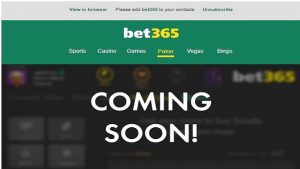 happy to participate in these monthly promotions have been waiting to see what July will bring in terms of a new offer, but so far nothing has materialised.
This is a very unusual occurrence as Bet365 Poker's monthly promotions are usually as regular as clockwork. Indeed, as one promotion finishes, there is usually at least one other that starts to replace it. Over the past 18 months or so, the "missions" type of promotion has been the defacto choice of the site, with many different forms of the promotion run almost monthly over that period.
So why the hiatus in July? Did this mean that Bet365 were changing their promotions completely? Was a new promotion delayed due to technical issues, or had the company just decided that they were going to do away with this type of promotion? Which would be a somewhat strange decision given how popular these promotions are with the majority of Bet365 Poker customers.
It also does impact how customers view the site too. A solid promotion is often a good motivator to play on the site. Sure the same games are available, but having an additional factor to play for, such as collecting tournament tickets in the hope of winning  a cash prize as on the missions-based promotions, does give your play a little added impetus.
The reason behind July's lack of promotion wasn't known, until last week when Bet365 customer support contacted Bet365 Poker players with news of a major release pending. That released was the founding of a brand new Bet365 Poker Loyalty Club, which promised to make participating in promotions easier than ever.
What do we know about Bet365 Poker's new Loyalty Club?
Well in short, not much. Details about the club are still pretty sketchy at the moment and we only have what Bet365 have announced in their email communication to customers to go on at present. Although Bet365 Poker have stated that if you follow their Twitter account, more details of the Loyalty Club will be released their over the coming weeks in due course.
All that we know about the Loyalty Club so far is the following:
Every Bet365 Poker customer is automatically a member of the Loyalty Club
The new Loyalty Club will offer players numerous chances to earn a number of different rewards.
These rewards will be based on a number of 'fun and simple' missions that they can complete each week/month to earn them.
The Loyalty Club will also be able to be personalised for each individual Bet365 Poker customer, meaning them they can set up the software to bring to the fore the promotions and offers they are most likely to be interested in.
So what can we surmise about Bet365 Poker's Loyalty Club?
Based on the scant information we have at the present, it seems Bet365 Loyalty Club will continue to offer missions-based promotions for players every month and the good news is that it should be even easier to participate in these missions.
I am assuming that as a member of the Club, you won't need to keep opting in to Missions to participate in them (which is a good thing and avoids you missing out on a mission by forgetting to click to opt in) and that as a result, everyone will be able to participate at some level in most missions. Again which is a positive as it means more rewards for more players.
The personalisation aspect I think is best commented upon when seen for real, while the good news for most Bet365 Poker fans is that the missions-based promotions are set to make a return, which is good news for all the fans that enjoy them.
All we know is that Loyalty Club will be open to members at some point in August, no firm date has yet been set. Until that time, why not while away the time at Bet365 Sport indulging in a little sports betting as there's some fantastic sporting events you can bet on coming up over the next seven days.
Some outstanding betting opportunities to enjoy this coming week at Bet365 Sport
What better way to enjoy a little excitement with a wager this week on the forthcoming 146th Open Championship which is taking place at the famous Royal Birkdale Links course in Southport, just north of Liverpool. There's 156 players competing to try and emulate last year's winner Henrik Stenson, who held off a challenge from Phil Mickelson to win in a record score of 20 under par.
The tournament starts early on Thursday morning and it will certainly be a more challenging track for the players than Royal Troon was last year. Birkdale is one of the toughest courses on the British Open roster, but it offers a tough but fair test to players. The last time the event was held here, Padraig Harrington was declared the winner with a score of 3 over par back in 2008, which illustrates how tough this course can play.
In contention this year should be the likes of World Number 1 Dustin Johnson, who has enjoyed a fantastic season but who, as yet, has not achieved a Major victory in 2017 to add to his 2016 US Open success. Jordan Spieth and Rickie Fowler are two young players from the US who have shown the temperament and skill to cope with the different demands of Links golf and they too should go close.
You can't also rule out Phil Mickelson who, despite being 40/1 with Bet365 for the Championship, has an outstanding record in the Open in recent times, finishing winner in 2013 and runner up last year. Having missed the US Open last month, he'll be itching to compete in this Open in particular.
Aussie pair Jason Day and Adam Scott cannot be discounted, nor can the mercurial skills of Irishman Rory McIlroy, who despite not making the cut in his last three events, could still pull some magic out of the hat to win what would be his second Open Championship.
Local fans will be cheering on Tommy Fleetwood (25/1), the talented Lancastrian who grew up close to the course and who will likely have amongst the best knowledge of the course of any player playing in th event. Great form in Europe and a strong showing in the US Open could see him go well again here.
In addition to the British Open golf, don't forget too that there's a number of big football friendlies now taking place as Premier League teams jet off around the globe to participate in a number of pre-season tournaments. There's also the fantastic Women's Euro 2017 tournament taking place in the Netherlands to enjoy with some big matches including England v Scotland tonight, and then the Lionesses go on to face Spain and then Portugal in their remaining two games in Group D.
They'll be hoping to join seven other teams in the quarter finals which get under way at the end of next week once the group phases have been decided. Germany, France, England and Sweden are amongst the favourites to be crowned Champions of Europe this summer.
Lastly, this Saturday evening at 7pm sees the start of the third biggest darts tournament of the year behind the World Championship and Premier League as the top PDC stars convene at the Winter Gardens in Blackpool for the World Matchplay Championship.
Michael van Gerwen has won the event the past two years, but his two victories pale into comparison to the 15 –time champion Phil Taylor. Both of these players will be keen to succeed, but the likes of Peter Wright, Gary Anderson, Adrian Lewis, Dave Chisnall, James Wade and Ian White will be hoping that they can come through a very tricky opening round and perhaps spring a surprise in the tournament.
Bet365 is offering extensive betting on all these massive sporting events both pre-event and In Play for you to enjoy across the next seven days, so why not log in and enjoy a flutter yourself while you wait for the doors to Loyalty Club to be officially opened.