Over the next fortnight, all the world's top tennis stars will be in Paris to compete for the second Grand Slam event of the season, the French Open at Roland Garros. Who will come out on top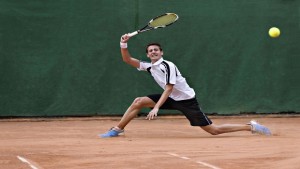 of the pile and succeed Garbine Muguruza and Novak Djokovic as the Women's and Men's Champions in 2017?
There is an awful lot of tennis to be played between now and the final of the Women's and Men's events on the 11th and 12th June respectively and that means there are plenty of opportunities for some great betting too. Bet365 have really upped the ante when it comes to offering punters a great deal for the French Open thanks to their brand new and somewhat rare French Open Early Payout Offer.
What is Bet365's French Open Early Payout Offer?
Before we analyse this offer in a little more detail, it is worth pointing out that Bet365 only rarely offer short-term promotions such as this one, the company much prefers to offer long-term promotions which can be used multiple times over the course of a sporting season. However, for some of the bigger sporting events the company will occasionally offer something new and this is just such an event.
This new offer means that if you place a Pre-Match single bet on the To Win Match market of any Men's Singles match in the French Open over the next couple of weeks, if the player you have backed in the match goes 2-0 up in sets, then Bet365 will pay your bet out as a winner, regardless as to whether your player goes on to win the match.
The offer is open to Bet365 customers that have received the special Promotional Email or the web message only. Furthermore, once your chosen player has a 2-0 lead in sets in the match, then Bet365 will endeavour to pay you out your winnings within 15 minutes of your chosen player taking the 2-0 set lead.
This is a fantastic bet to use in conjunction with Bet365's long-standing Tennis Accumulator Bonus as this offer is perfect for single bets on the Men's singles matches, whereas the Accumulator Bonus can be used for multiple selection accumulators throughout the tournament (including Women's and all forms of Doubles games too).
A brief recap of Bet365's Tennis Accumulator Bonus
If you are a punter that enjoys stringing together several selections from a tennis tournament in the form of an accumulator bet then the Bet365 Tennis Accumulator Bonus is perfect for you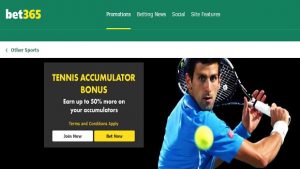 during French Open fortnight.
All you need to do is place your bet before any of your matches start and select from any of the To Win Match, First Set Winner or Set Betting markets for any singles or doubles match taking place. You don't even need to restrict your selections to just the French Open as you can use this offer on any ATP or WTA tour event, as well as Challenger Tour events and a number of team events including the Davis Cup and Hopman Cup.
Once you have made your accumulator of at least two or more selections, simply click on the Place Bet option and enter your stake. Place the bet and your bet will be covered by the Tennis Accumulator Bonus should you win.
How much you win depends on the size of your winnings from the original bet, as well as how many selections are part of your successful bet. The table below outlines the percentages of your winnings you will earn for each number of selections on a successful bet:
| | |
| --- | --- |
| Bet Type | Bonus on Winnings |
| Doubles | 5% |
| Trebles | 7.5% |
| 4-fold | 10% |
| 5-fold | 15% |
| 6-fold | 20% |
| 7-fold | 25% |
| 8-fold | 30% |
| 9-fold | 35% |
| 10-fold | 40% |
| 11-fold | 45% |
| 12-fold+ | 50% |
What this means is if you place a 12-fold accumulator bet on qualifying markets and your £20 bet comes in at odds of 1000/1, this would mean that you would receive back £20,000 winnings as per the bet (plus your £20 stake money back).
However, as your bet qualifies for the Tennis Accumulator Bonus and with 12 selections you earn the maximum 50% bonus, this means you get 50% of your £20,000 winnings as a bonus, which is £10,000. This means your total return for that bet would be a massive £30,000, plus your £20 stake money back.
The maximum bonus you can win is £100,000 so there's plenty of scope to win a huge amount of money on top of your already considerable tennis winnings at Bet365 Sport.
Remember, Live Streaming from all courts now available at Bet365 Sport
If you love the French Open tennis and want to catch as much of the action as possible, as well as perhaps enjoying a little In Play betting, then don't forget that as a Bet365 customer, you can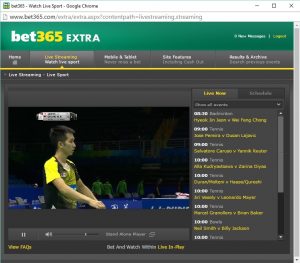 enjoy all the action from the clay court major completely free via the sites superb Live Streaming service.
All you need to do is to have placed a bet within the preceding 24-hours of the event, or have a credit balance in your account. If you meet either of these criteria then a massive range of live streamed sports is available to you from Bet365, completely free of charge.
The French Open live stream includes action from every court at Roland Garros and will feature all major competitions, the Men's and Women's singles events, plus the Men's, Women's and Mixed Doubles events too.
Alongside these high quality live streams (which are also available on mobile devices) Bet365 also offers an extensive In Play betting service on the event, which will allow you to bet on matches as they are played out on screen. Can you detect when one player is starting to dominate the other or perhaps when a big turnaround is happening in a game, which could turn that  long shot punt into a sizeable win? If so then In Play betting may well be your thing.
There are many reasons why you should make Bet365 Sport your first choice when it comes to betting on the French Open, or indeed any other tennis event throughout the course of the season and we've outlined just a few of them here. So what are you waiting for? Head on over now to see the best tennis betting served up to you on a plate.