It is not long now until the new Premier League season kicks off in earnest.
This weekend sees the traditional curtain raiser on the new season as FA Cup Winners Arsenal take on Premier League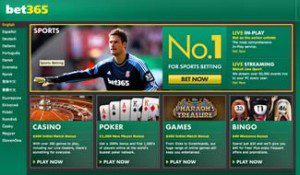 champions Chelsea at Wembley in the FA Community Shield and then less than a week later, the action begins at Old Trafford with Manchester United taking on Tottenham Hotspurs.
Of course, the start of a new season brings with it the promise of plenty of top quality sports betting as over the course of the next few weeks, the biggest leagues in Europe will follow the English teams into action across Germany, Italy and Spain.
Not long after that, the group stages of the Champions League and Europa League will start in earnest and the season will then be fully under way.
So what better way to celebrate the start of what promises to be a huge season than by taking a look at five outstanding, long-term betting offers from Bet365, all of which will undoubtedly appeal to the soccer betting enthusiast.
As you will see, this is a can't-miss quintet of offers from Bet365 Sports which are ideal for the serious football punter who wants great long term value on their sports betting. Why not join Bet365 today in readiness for the new season?
New UK account holders can snap up a Bet365 sign up bonus and begin this season with the best soccer betting available online.
Bet365 Sports – 100% Deposit Bonus
First up, if you are not already a member of Bet365 Sport (and if not, why not?) then why not join now and take advantage of the sites outstanding 100% Deposit Bonus offer. All you need to do is deposit £10 or more up to a maximum of £200 and when you do, Bet365 will send you a 10 digit offer code via email.
Simply enter this offer code in the Services section of the website and once you have bet through your initial deposit, you'll be able to bet with your bonus money!
This is a fantastic way to enjoy some great sports betting value when you sign up. And don't worry if you have already used a bonus opening a Bet365 account with the Bet365 Casino, Bet365 Vegas, Bet365 Games, Bet365 Bingo or Bet365 Poker sites as provided that bonus has expired, you can claim this new bonus when you make your first Bet365 Sports deposit.
So if you are joining you'll get a great value deposit bonus deal when you sign up but that is not the only great deal you'll get when you join.
100% On The Move Bonus
Once you have used

up your new player bonus, why not grab your mobile device and place your first bet with Bet365 Sports via mobile or tablet and when you do, you'll be eligible for a fantastic 100% On The Move bonus which could be worth as much as £50.
All you need to do is log into your Bet365 account from your smartphone or tablet and when you do, place your first bet via your mobile from a minimum of £1 up to a maximum of £50.
Once you have placed your bet, Bet365 will send you a code via email, which you can then enter to receive your free On The Move bonus of a matched bet to the same value as your first mobile bet.
What a great way to give yourself double the money to bet with, simply by using the Bet365 mobile site, or the new Bet365 mobile app (available for Android or iOS devices) to place your bet.
For more information on this particular bonus, don't miss this guide to making the most of the Bet365 On The Move Bonus.
Bore Draw Money Back Offer
While the first two offers listed above are available for all Bet365 users, if you are a football fan you'll want some added value to your bets this coming season and once a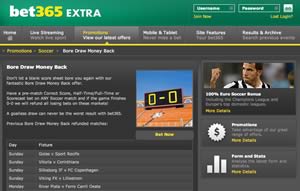 gain, Bet365 have come up trumps by continuing with their hugely popular Bore Draw Money Back promotion.
The great thing about this (and the other soccer offers listed below) are that you don't need to opt in to the offer to receive it.
Simply place a pre-match bet on any Correct Score, Half-Time/Full-Time or Scorecast markets. If the game you bet on finishes 0-0 and your bet subsequently loses, Bet365 will then refund your bet in full.
This means that any time you place a bet on any football match Bet365 offer odds on the markets outlined above, you are guaranteed to get your money back if the game finishes in a 0-0 draw. Given that between 7% and 12% of matches finish 0-0 across various leagues in the world, this is an offer which gives the punter some serious long term value.
100% Euro Soccer Bonus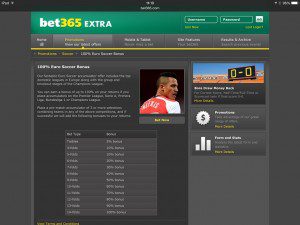 Soccer punters always love accumulators and there is no better long term value deal on offer for football fans who enjoy acca betting than the much lauded and copied, 100% Euro Soccer Bonus.
To qualify for this offer, simply put together an acca bet of a minimum of three selections from matches in European soccer's biggest leagues, Serie A (Italy), the Premier League (England), Bundesliga (Germany) and La Liga (Spain). You can also select matches from the Group Stages and onwards of the Champions League.
Once you have made your selections from the leagues and competitions above, place your acca bet and then if you win, you will receive a bonus payout of a percentage of your returns on top of your actual returns.
The more selections you have in your accumulator, the bigger your bonus. Land a Treble and you'll get the 5% bonus, but land a 14-fold bet or more and you'll win a 100% bonus, meaning you will potentially DOUBLE your winnings.
What does this mean? Well if you land a 10-fold acca bet based on selections from the leagues and competitions above with Bet365 and win £10,000 as a result, you would receive a bonus of 60%, which means you would receive a £6,000 bonus on top of your winnings for a total return of £16,000.
Bet365 are known for their strong odds on soccer betting, but this Euro Soccer Bonus makes them even better value to place an acca with and it is rightly one of their most popular offers, used by thousands of punters each day of the week.
Each Way First Goalscorers Offer
How often have you placed a bet on a player to be the First Goalscorer in a game, only to see a different player score the opening goal, you lose your bet and then the player you selected goes on to score one or more goals in the game subsequently?
Well, you needn't suffer that all-too common frustration anymore thanks to Bet365's superb Each Way First Goalscorer promotion.
Simply place an Each Way bet on your First Goalscorer selection and if your chosen player doesn't score the opening goal, but does subsequently score in the game, then Bet365 will pay you out at 1/3 odds regardless of when they score the goal.