You may think that joining a poker site is simply a case of selecting one of the top sites (such as Sky Poker or Bet365 Poker) registering your details and signing up. Nowadays, the way poker sites are organised and in particular, how they deal with new customers, means that there are a vast number of options and bonuses available, some of which you may not even be aware of.
What this means is that to fully gain the most from your membership of a poker site, such as Sky Poker, you need to do more than simply sign up and take advantage of the new player offer. There are lots of other things you can do when you join and as you play in the first few weeks, which will give you additional benefits on the site.
So in this article, we'll look at how you can best join the Sky Poker site. What you should do when you join and as soon as you have become a member. We'll take a look at the games you should play and we'll also look beyond Sky Poker to give you the lowdown on other free games and offers you can take advantage of thanks to your membership of the site.
Here's our easy to follow ten step guide to maximising your bonuses and promotions when you join Sky Poker.
Register on Sky Poker and receive £10 completely free
One of the best aspects about Sky Poker is that you can receive £10 worth of tournament tokens completely free, without even having to make a deposit on the site. You can learn a lot more about this fabulous £10 Sky Poker no deposit introductory offer by clicking here.
This is basically free money for you to have a trial run through some of the best and cheapest gaming options on the Sky Poker site. You can play two £3.30 Sit & Go games and two £2.20 Sit & Go games with your tokens, or you can combine tokens to play in a higher value poker tournament (such as a £5.50 Sit & Go game).
Deposit as much as you can realistically afford into your account up to £250
In addition to your no deposit bonus, Sky Poker offers you a 200% deposit bonus on your first deposit of up to £500. What does this mean? Well in short, it means whatever you deposit into your account with Sky Poker, they will potentially give you DOUBLE that amount of money back as a bonus, up to a maximum of £500. Therefore to realise the full bonus, you'd need to deposit £250 into your account.
That sounds great but the important thing to realise is that you are not paid this money in a single lump sum as soon as you make a deposit. Instead, you have 30 days from the date of your first deposit within which to earn enough Sky Poker Points to realise your full bonus.
You earn £10 of your bonus for every 250 Sky Poker points you earn, so to clear a £500 bonus, you need to earn 50 x 250 Sky Poker Points (12,500 Sky Poker Points in total, within 30 days). That equates to around 416 Poker Points per day.
So what does that mean in money terms? Well currently for every £1 you spend in tournament fees (not your prize fund contribution), you earn 10 Sky Poker Points and for every £1 you contribute to the rake in cash table games, you earn 6 Sky Poker Points.
This means that on each day playing cash table games, you would need to contribute at least £69.40 to the rake, or pay £41.67 per day in tournament fees. That is the equivalent of playing in 42 £10 tournaments every day.
So as you can see, it can prove very expensive (unless you can win cash regularly) to realise your full bonus, given that you would need to repeat this level of playing for 30 days to realise your full £500. It is therefore vital to deposit enough to earn a bonus that you can realistically realise within your poker budget.
Join Sky Poker Rewards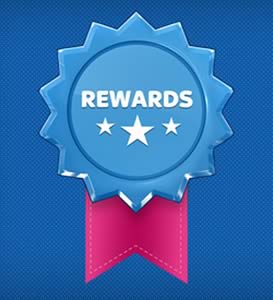 As soon as you join the Sky Poker site you should join Sky Rewards. This is their loyalty bonus scheme which rewards players for playing on the site regularly by converting the amount of points they win each month (over a set level) into real cash they can use to play on the site.
To enter the scheme, simply visit your account and in the My Account Free Bets section, enter the code REWARDS. You are then automatically opted into the scheme each month and your Sky Poker points that you earn can go towards earning you a bonus.
Payouts start at just 100 Poker Points earned in a month,
Follow Sky Poker on Facebook and Twitter
A great way to supplement your real cash gaming is by taking part in special promotions on Sky Poker. We'll look at the promotions page a little later in this list but as soon as you have joined the site and opted in to the Rewards scheme, the next thing to do is load up your social media pages on Facebook and Twitter and join and follow the Sky Poker Facebook page and the Sky Poker Twitter Account.
The reason for this is that many poker sites are now realising that social media is a powerful tool when it comes to advertising cheaply. As such, they will encourage players to follow these pages and share them with their friends. The best way to do this? To offer social media freerolls for which only players who follow the sites are eligible as entry is only via a special password, only available on these sites.
This is a free and easy way to give you access to extra freerolls on the site that are not available to players who have not followed the Sky Poker pages on social media.
Join Sky Fantasy Football and Gillette Soccer Saturday Soccer Six Games
Your Sky Poker registration details give you access to more than just Sky Poker, you can use SkyBet, Sky Vegas and Sky Bingo from your single log in (although you can only use one new player bonus across the four sites).
However, you can get free entry on two Football-themed games, each offering top prizes of hundreds of thousands of pounds; they are Sky Fantasy Football and Sky's Soccer Saturday Super Six prediction game.
The great thing about these games is that they are completely free to enter and are easily accessible using the same log in you use for Sky Poker.
Download Sky Poker Mobile on your iPhone/iPad or Android device
If you are serious about realising your full bonus, then you'll need regular access to Sky Poker and thankfully this is now much easier and simpler thanks to the brand new Sky Poker mobile app.
If you have an Apple iPhone or iPad then you can download the app from the App Store, or you can even visit the Sky Poker site via a browser to access even more poker games. Android users can simply log in to the website.
This will then give you access to Sky Poker's vast range of games direct from your mobile device, allowing you to play whenever or wherever takes your fancy. Just remember to check that you won't be heavily hit by roaming charges if you opt to play via 3G or 4G services.
Polish your poker skills using the Community, Sky Poker School and Sky Poker TV tabs
These sections of the site are often under-used and unappreciated by Sky Poker players but they are of invaluable use if you want to improve your poker skills quickly. Take a look at the Sky Poker Community Forum (there's a great article about the Community on Sky Poker here explaining why this part of the site is so useful for players), Sky Poker School and Sky Poker TV for a vast range of resources to help you improve your game.
Making money on Sky Poker and joining the site profitably is more than simply a case of picking up bonuses. At some point, you have to turn those bonuses into cash by playing well at the tables..
Play in freeroll events
When you join Sky Poker Rewards, you are automatically given 500 Rewards points, this is enough for 50 entries into the daily £20 Guaranteed Freeroll events. There are other freeroll events you can play in (most notably Bounty Hunter games), but using your points for this is a great way to gain great experience at the tables, without it costing you a penny.
Each month you gain Sky Poker Points you can use them to play these games and give yourself a chance of boosting your bankroll with a cash out. There's four £20 GTD games every weekday to play, so remember to take up the challenge and see if you can win some extra cash to supplement your bankroll.
Play in as many real cash games and tournaments as you can within 30 days of joining
Of course, it goes without saying that once you have joined, you have 30 days within which to activate your full bonus. Therefore, it makes no sense to begin nice and slowly and then waste your bonus by not having enough time to activate it. Start playing on the site regularly and you'll soon start to pass the milestones and earn each of your £10 increments.
Check the Promotions tab regularly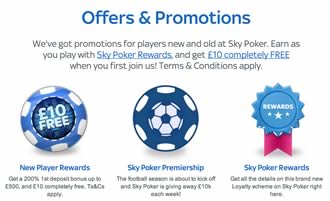 Finally, when you are playing on the site, do check the promotions tab regularly. Sky Poker are one of the most active sites when it comes to regular promotions and they are often open to all levels of player. Many will be tied in with major sporting events (the start of the new Premier League season is a good bet to see some football-themed poker promotions on the site shortly and Sky Poker received an award for its promotion in conjunction with the Cheltenham Festival in 2014).
With so many promotions available and new ones added almost every week, it does pay to keep a close tab on this page to see if you can qualify for any new offers and promotions being run on the site.
So with those ten steps complete, you should now be up and running on the site, having maximised all your bonuses possible, set up to take advantage of all the different promotions the Sky Poker and sister sites are running. Best of all, you can play via laptop or mobile, at any time on one of the best and most innovative poker sites in the UK.
The rest is down to the cards you are dealt and your skill at the poker table; good luck!