The Best Continually Available Soccer Promotions On Bet365
Many years ago, when the only available method to bet was using a high street bookmaker, horse racing was the sport that most people would bet on. Over time, changing attitudes and the advent of first Internet and then mobile technology has seen new ways to bet online from the UK and alongside the sport of kings, soccer betting has emerged as arguably the most important betting market for bookmakers.
To understand how important the football betting markets are to bookmakers, you only need to take a look at how highly each bookie profiles the sport, its available bets and promotions in order to be under no illusions as to just how popular this form of sports betting is.
Most sites, when they offer a soccer promotion, will tend to offer it for either a key game (such as an FA Cup Final, Champions League Final or key domestic soccer game, such as Real Madrid v Barcelona) but there are a few that offer promotions that span the season and which can be used repeatedly throughout the year.
Bet365 Sport is one such company that offers football fans an outstanding choice of promotions available throughout the season. Let's take a look at each of these promotions now and explain how they work and why they offer such great value for punters.
Let's begin with arguably Bet365 Sport's landmark promotion, it's 100% Euro Soccer Bonus deal for accumulator bets.
To take advantage of any of these offers, first you'll need to create an account with Bet365. Be sure that before you do, you get a Bet365 referrer bonus code to ensure you'll find maximum value.
100% Euro Soccer Bonus
Bet365's flagship offer for football fans is the 100% Euro Soccer Bonus offer, which is payable on qualifying accumulator bets of three or more selections.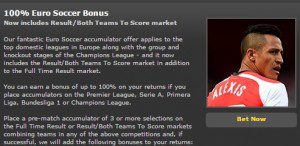 To qualify for this offer, all selections on a punters coupon must be from the Full Time Result or Result/Both Teams to Score markets (selections can be mixed from both markets) and also must be taken from one of several named competitions. These are the English Premier League, Italian Serie A, Spanish La Liga, German Bundesliga or the UEFA Champions League (Group Strage games and onwards).
The promotion comes in the form of a bonus that is paid to the punter after they have placed a winning accumulator bet based on the criteria above. The greater the number of selections on your coupon, then the higher the bonus you receive.
The bonus is calculated as a percentage of your winnings and starts at a 5% bonus for a successful treble bet, a 10% bonus for 4-fold and 5-fold bets, 20% for 6-fold bets and so on up to the full 100% bonus for a 14-fold bet or greater.
Essentially, what this means is that if you land a successful 14-fold acca bet with Bet365 and your selections qualify for this offer, then you will receive back DOUBLE the amount in winnings (up to a maximum bonus payout of £100,000).
Provided you make your selections from the qualifying markets and leagues, you can use the Euro Soccer Bonus as often as you like throughout the season. There is no limit on the number of bets you can place that potentially take advantage of it, nor on the number of times you can receive a bonus from using it.
This really is a fantastic long term offer for football and accumulator fans and it is little surprise that other companies have now flocked to offer their customers a similar deal for football accumulators, though as yet, none tend to offer as good a value as Bet365 Sport.
However, the Euro Soccer Bonus is not the only great football-based deal that is available over the longer term on Bet365 Sport, if you like insurance-based offers, then the Bore Draw Money Back offer will certainly interest you.
Bore Draw Money Back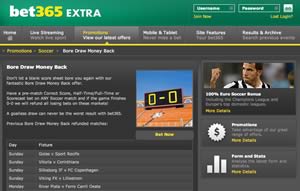 The Bore Draw Money Back offer sees punters who place a Correct Score, Half-Time/Full-Time or Scorecast bet on any football match on Bet365 Sports, receive their stake back as a free bet if the match they selected finishes in a 0-0 draw after 90 minutes.
The great thing about this offer is how flexible it is. There are no restrictions on the match that you can bet on. If Bet365 offer odds on the Correct Score, Half-Time/Full Time or Scorecast markets on the game and you place a bet on one of those markets, then your bet is covered by this insurance.
How valuable is this bet? Well statistical analysis of the top leagues around Europe shows that between seven and 11% of games at these levels end in 0-0 draws, which means that out of a typical weekend of several hundred games, there are many punters receiving their stake money back on bets that would otherwise be lost.
This means that if you place 40 bets across the course of a typical season using any of these markets, then you would receive the stake back as a free bet on 3 to 4 of them on average, when otherwise that money would be lost.
There's no requirement to opt in to either the Euro Soccer Bonus or the Bore Draw Money back offers from Bet365, simply place your bet and if it qualifies for the promotion, it is automatically covered.
Each Way First Goalscorers
The third and final offer Bet365 have specifically for football is the chance to place an Each Way bet on First Goalscorers.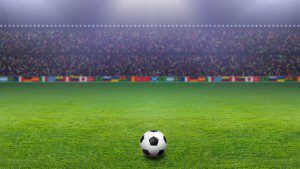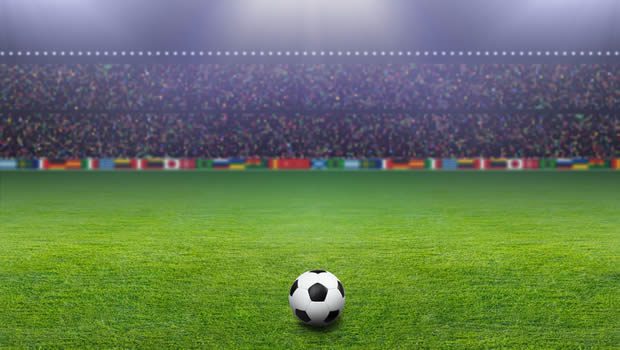 To be honest, I wouldn't necessarily call this an offer as such. It is more a way of betting on the First Goalscorer market, without risking all your money on the fact that the player needs to score first in order for your bet to win.
Place an each way bet on the First Goalscorer market and if your player scores at any point in the game, then you will be paid out at 1/3 of the stated odds.
For example, if you back Luis Suarez to score the opening goal for Barcelona against Real Madrid at 3/1, but Suarez scores the third goal of the game, then you would earn a return of a third of the stated odds (even money).
Each way first goalscorer bets are allowed on any game on Bet365 Sports where punters can place a first goalscorer bet.
Bet365 On The Move Bonus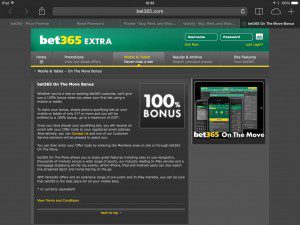 One final bonus that is not soccer-specific but can easily apply to those who place football bets is the Bet365 On The Move Bonus. This is a chance to earn a free bet of up to £50 when you place your first bet with Bet365 Sport via a mobile device.
Simply place a first bet of between £1 and £50 using your choice of mobile device and you will receive a 100% matched bet as a thankyou from Bet365. An email will be sent to you after you have completed your first bet via mobile and you then need to enter the offer code sent on the email to activate your free bet.
The On The Move bonus is available across all sports, so this does mean you can place it on one of the promotions outlined above and you'll still qualify for the free bet, if it is your first bet placed with Bet365 Sport via mobile.
Your bonus bet and qualifying wager needs to be played through three times in order to release the funds accrued from your bonus and you must complete this within 90 days to allow you to withdraw any bonus cash to your real cash account.