If you have played poker at Sky Poker, or indeed any other reputable poker site in recent times, then you will have likely heard that many poker players will earn good money through the process of 'multi-tabling'.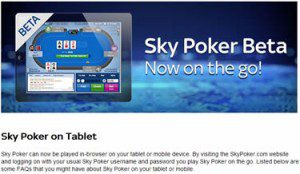 Indeed, in a recent article we took a look at Sky Poker's new updated app for iPad and iPhone we mentioned that one of the key features that Sky Poker were keen to develop for their new app was the ability for users to play on more than one table at a time.
While the app is still not yet quite ready for mobile users to multi-table, you can easily multi table if you play Sky Poker from your desktop PC or laptop, but the question is; would you want to? How easy is it to do it and why would you need to do so if you want to play more profitably?
These are all fundamental questions which need to be answered if you are to multi-table on Sky Poker effectively, so let's take a look at multi-tabling in a bit more detail.
What is multi-tabling?
As the name suggests multi-tabling is when a poker customer at Sky Poker (or indeed any other poker provider) plays on more than one table at the same time. For some players, this can mean playing 2, 3 or 4 tables, but for some more proficient players (also known as Grinders) this can mean playing considerably more.
This YouTube video will show you how one very experienced player uses specialist software to play up to 16 tables at any one time.
Multi-tabling works on the premise that if you play to a generally profitable tight and aggressive poker strategy and assuming that you have a good understanding of key poker strategies and skills that by playing a large number of hands across a large number of tables, you are 'guaranteed' to make a profit.
This is arguably the most controversial aspect of multi-tabling. While some people can multi-table to make a profit when playing, it is generally players who have a high degree of poker skill and who have proven they have a winning strategy when playing single tables that enjoy success when playing across a number of tables.
Indeed, there are some poker experts who reckon that less than 10% of players on any popular poker website are actually profitable, which does raise the question of whether multi-tabling can be effective
What do you need to multi-table effectively?
Sky Poker's table software opens a new table for each game that you play so it is relatively easy to open 2/3 or 4 tables at once and have them tiled on your screen.
However, if you want to play considerably more tables then top poker players will often consider investing in at least one additional monitor, some may have three or four monitors on which they can keep track of many games at once.
Of course, you also need a computer that has the processing power to run many tables at once, although most poker software isn't particularly draining on a PC's resources.
However, having the right hardware is one thing but the other thing you need to play poker effectively across multiple tables, which is not guaranteed, is the ability to be able to implement an effective poker strategy very quickly.
Remember, each table you play at is on a timer and the more tables you play, the more pressure will be on you to act quickly. While playing two tables at once may not represent a significant change compared to playing a single table, playing 4 or 6 tables at once drastically reduces the amount of time you have available to consider the action you want to take at each table.
As such, it is imperative to ensure that you are a solid poker player with an innate understanding of the strategies you want to use and how to use them at pace. With your attention divided across many tables, you have far less time to consider what to do on any one table, therefore you need the ability to make accurate and instant decisions.
Of course, if you are an experienced player used to playing multi-tables, this is second nature to you, however to a novice, or someone just starting, this can be the most problematic aspect of multi-tabling and can lead to big losses.
The final thing you need to multi-table effectively is a bigger than usual bankroll. Let's say for example, you buy into Sky Poker with £100 and play at the £0.25/£0.50 cash tables and sit down with £20 at the table.  That is fine.
However, if you want to play at eight of those tables, then that is going to cost you £160. So you'll need to ensure that you have more than enough money in your bankroll to ensure you can multi table at the level you wish to.
That means you may need to take up Sky Poker's excellent new player offer. Claim your Sky Poker no deposit bonus by clicking the link.
Any Multi-tabling advice?
Multi-tabling on Sky Poker is easily possible via a laptop or PC, but don't assume that it is going to be profitable. If you are a strong player, used to multi-tabling and have an ability to make the right decisions quickly and often, then perhaps you may make a profit, but this is not guaranteed.
As a beginner, multi-tabling to excess is likely to lead to quicker losses than a faster profit because you don't have the grounding and knowledge of the game that you need to play at a faster pace across numerous tables.
It is always wisest to play on the lower stakes tables first too as you need to discover whether multi-tabling is profitable or not for you and it is much more sensible to do this on the smaller cash tables to minimise the risk of heavier losses.
However, used wisely, say by playing two tables at once, then three and gradually building up, can be a good way to start multi-tabling. Indeed, if you want to try and win The Final Table Jackpot on Sky Poker, you may need to multi table as often the two tournaments will overlap meaning that to have a chance at the £5,000 jackpot, you'll need to play in two tournaments at once.
Multi-tabling is a real poker skill that looks much easier than it actually is, so don't be fooled into thinking it is a quick way to a bigger profit. It can be, but only if you have the skills, talent and bankroll to do so.
Looking for more Sky Poker resources? Check out our guide to Sky Poker UK satellite tournaments.