It is fair to say that the BetStars UK sports betting service has undergone a transformation from the early days of its operation. Not only has the name changed from the somewhat ungainly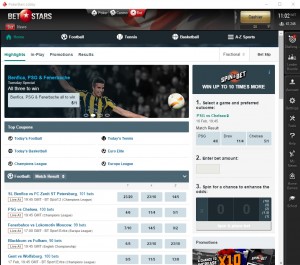 PokerStars Sports, but the whole sports betting service has been refined, tweaked and improved consistently since the site first went live just over a year ago.
Back then, we were very much of the opinion that PokerStars Sports, as it was then called, was very much a sports betting add-on to the Poker site and that it would likely only serve the needs of people that were predominantly poker players, but who on occasion fancied having a dabble on a sports bet.
However, given the vast range of improvements made to BetStars since then, is this still the case, or does BetStars have a much broader appeal nowadays?
A closer look at BetStars improvements
The first thing to note is the scale of improvements made to the BetStars site since it was first released, we've summarised some (but by no means all) of the key improvements to the site that have seen it make huge improivements.
Promotional Offers – When the site was first launched BetStars didn't have very many promotional offers available for its customers. However today, the site has a huge range of sports betting promotions on offer throughout the year, plus a large number of event-specific betting offers too. The sheer number of promotional offers available on BetStars now is huge and all of them offer punters an excellent deal.
Betting Markets – When BetStars first launched it is fair to say that the number of sports betting markets on offer was very small. Over the past year however a larger number of sports are covered by the company and also, the number of markets offered on these sports has also increase giving punters a far wider range of betting options available.
Spin & Bet – One of the most innovative new products to emerge on a sports betting site in a while is BetStars new Spin & Bet feature. This allows punters to select a bet and then they can wager a tenth of their stake on the Spin & Bet option. If you do, you could see the odds on your bet either remain the same, or increase up to 10x. What this means is if you place a £10 bet on a selection at 5/1 and decide to try Spin & Bet, you pay £1 to BetStars and spin the wheel. Where the wheel lands will see your bet multiplied by 1, 1.5, 2, 5 or 10 the stated odds, meaning your 5/1 bet could be paid out at a massive 50/1. Remember though only £9 of your initial £10 stake will be placed on the bet as you used £1 to play Spin & Bet.
In Play betting – In addition to an ever-expanding range of pre-match market betting, BetStars has also developed its In Play betting service markedly over the past 12 months or so, offering the chance to bet In Play on a very large number of sporting events and across a wide range of betting markets. You can now bet on Ice Hockey, Snooker, Volleyball, Basketball and many other sports In Play, as well as many different Tennis and Football matches.
Cash Out – You now have the ability to cash out some of your bets on PokerStars using the Cash Out option.
Conclusion?
While there are still some glaring omissions in our view, especially for the UK Market (horseracing really needs to be included if you are to have any chance of appealing to many punters in this country), BetStars sports betting service is now far improved and a far better option for punters in the UK than ever before.
If previously, the site was predominantly for poker players who enjoyed a sports bet, we feel that with all the improvements made, the site will now appeal equally to punters who just enjoy sports betting, provided that they are not looking for horseracing betting.
It is this single omission which stops us short of saying BetStars is a genuine rival to the bigger names in the UK sports betting industry, but if you don't tend to bet on horses and enjoy betting on other sports, you won't find much better available in the UK betting industry than BetStars at present.