Not so long ago, we brought you news that Bet365 Sports had overhauled their Euro Soccer Bonus offer which resulted in another betting market being available for punters to use as part of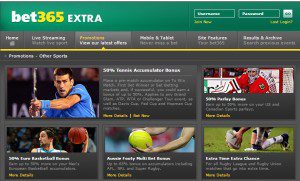 any qualifying accumulator for this bet.
Obviously, this is great news for those on Bet365 Sport who enjoy a flutter on football, specifically the Bundesliga, Serie A, La Liga and Premier League games, plus those from the group stages onwards in the Champions League.
However, there are plenty of punters who would perhaps want to bet on different sports using the accumulator format and the great news is, Bet365 are offering precisely that.
So let's take a look at these other acca bonus deals which are available for a range of other sports  – but first, if you haven't yet joined what is regarded as one of the top UK online bookies, why not give Bet365 a try? New players will qualify for a Bet365 Sports welcome bonus, so there's no reason not to.
If you are looking for advice as to when is the best time to cash out your acca bet, here is an in-depth look at that topic.
50% Parlay Bonus
If you enjoy Parlay betting on American sports (parlay is simply another word for accumulator), then Bet365 offer up to 50% in bonuses payable on acca bets of between 2 and 12 or more selections.
You can place bets on the following markets to qualify for the offer: Spread, Run Line, Puck Line, Game Totals, 1st and 2nd Half Point Spread, 1st and 2nd Half Totals and Money Lines. You can also place the bets across a number of sports including the NFL, NCAAF, CFL, NBA, NCAAB, MLB or NHL.
For those of you that don't know what these acronyms mean, it is the professional American football league (NFL), college American football (NCAAF), Canadian Football League (CFL), professional basketball (NBA), college basketball (NCAAB), Major League Baseball (MLB) and the National Hockey League (NHL).
Place a double bet and you'll receive a 5% bonus on a successful bet, this then increases with each successive selection you add to the coupon up until you have 12 or more selections when you'll receive the maximum 50% bonus.
So for example, if you pick a 12 team parlay bet and it is successful and based on the odds alone, you would have won £2,000, with the bonus applied, you would actually take home £3000, plus your stake back.
50% Euro Basketball Bonus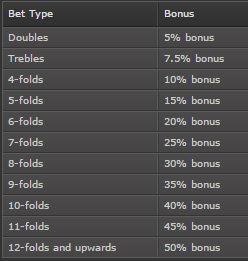 The 50% Euro Basketball bonus is essentially the exact same structure as the 50% Parlay Bonus for US and Canadian Sports. You can earn between 5% and 50% bonus on any successful bet across a wide range of different European basketball leagues.
You can select from games in any of the men's Euroleague, Eurocup, Spain's Liga, ACB in Italy, Lega 1 from Germany for this offer and you can also make selections from two different markets, the 2-way game point spread market and the 2-way game totals for the match.
Bet365 have an extensive weekly coupon of all the games that you can bet on in these numerous European basketball leagues which is easily found under the Basketball tab in the list of sports found on the home page of the website.
50% Tennis Accumulator Bonus
One of the newest accumulator bonuses available on the site is Bet365 Sports 50% Tennis Accumulator Bonus.
Again, the amount of bonus you earned based on the number of selections is the same as the Basketball and the US/Canadian sports bonus, starting at a 5% bonus for a winning double bet, right the way through to a 50% bonus for a winning 12-fold or more bet.
However, where the tennis bonus does score particularly well is in the sheer number of different markets you can bet on to make up your accumulator coupon. You can select from the To Win match, First Set Winner and Set Betting markets to make up your acca bet.
There is also a great choice of games that are eligible for this bonus too as Bet365 accept any Singles or Doubles match from any Grand Slam, ATP, WTA or Challenger Tour event. You can also add selections from any Singles or Doubles match from the Davis Cup, Federations Cup or the Hopman Cup.
What this means is that usually if there is a tennis match available to for you to place a bet on, on the Bet365 website, then you should be able to include it as part of a qualifying accumulator, provided that you bet on one of the approved markets.
Aussie Footy Multi-Bet Bonus
While the previous three offers are structured in a very similar way, the Aussie Footy Multi Bet Bonus is much more like the Euro Soccer Bonus for European football games and in addition, you can earn up to 65% in bonuses, which is 15% more than the three other bonus offers we've looked at previously.
To make a qualifying bet for the Aussie Footy bonus, simply place a pre-game acca on the Handicap (2-way), Totals (2-way) and To Win (2-way) markets on matches from the AFL (Australian Rules Football League), NRL (Australian Rugby Union) and Super Rugby (Australian Rugby League),
Your bonus is applied on any accumulator bets of three selections (a treble) or more up to 14-folds and upwards where you will receive the top bonus payable of 65% of your winnings.
Extra Time Extra Chance
One important thing to note here is that if you do place a qualifying Aussie Footy Multi Bet and you select Rugby games in your selections, then if the Rugby match finishes in a tie and goes into extra time, then your selection will be eligible for the Extra Time Extra Chance offer.
This means that rather than have the final result down as a draw, and thus you lose your bet, Bet365 will honour the final score once the extra time has been played, thus giving you another chance to see your selection win for you, rather than lose.
It does clearly state in the terms and conditions for this offer that all selections included in multiple bets are included and therefore, this gives you a little extra insurance that should your game go down to the wire and not be settled inside 90 minutes, you could still win if the result goes in your favour in extra time.
What this shows is that if you are a fan of accumulator bets, you don't just have to bet on football in order to qualify for a big bonus should you land a large acca bet. Now, you can bet on a number of other sports across a wide range of markets all available right now at Bet365 Sports.