If Cash Table Games are the essence of traditional poker and perhaps the purists favourite version of the game, then Multi Table Tournaments are the type of game that most appeals to the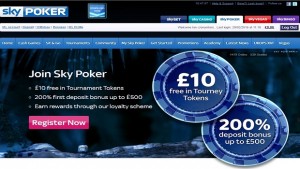 modern day poker player. Played against a large number of opponents, the chance to buy in for a small amount, but turn that into a huge win, is what drives so many people to play this form of the game.
There's certainly evidence of that at Sky Poker as alongside a burgeoning Cash Game scene, Multi Table Tournaments enjoy huge popularity with members of the Sky Poker Community. There's a good reason for that as every week at Sky Poker, players have a choice of hundreds of different Multi Table Tournaments to play in
With such a wide choice of games to pick from, new players to Sky Poker may be wondering what the best games are to target. In this article, we take a look at some of the biggest and most popular tournaments available on Sky Poker every week, learn a little more about them and outline why you should give them a try.
Remember, you can join Sky Poker today very simply by claiming your Sky no deposit bonus from the links on our review page. Click on the previous link for more information.
Once you are signed up, then these are some of the best tournaments to target to enjoy some fantastic MTT action at Sky Poker.
Sky Poker's Daily Main Events
Without doubt the best place to start to enjoy some of the biggest prize pools and most competitive multi-table tournament action on Sky Poker is in the nightly Main Events, which take place every night of the week starting at 8pm UK Time.
There are seven events throughout the week and the events are repeated in each week of the year. There are a variety of different tournaments to play in, with different buy in amounts for each. A list of these tournaments, complete with a short description of what to expect, is outlined below.
Sunday – The Super Roller – £12,000 Guaranteed – 10,000 Starting Chips, 15 minute blinds and £110 buy in. The biggest MTT of the week kicks off every Sunday at Sky Poker, buy in direct, or try to satellite your way into the event each week from just £2.40.
Monday – Bounty Hunter – £5,000 Guaranteed – 5,000 Starting Chips, 12 minute blinds and £33 buy in. Knock out a player to receive 75% of their head value in your account, with the other 25% added to your Bounty for other players to try and claim.
Tuesday – The Turbo Open – £4,000 Guaranteed – 3,000 Starting Chips, 7 minute blinds just £11 buy in. You can satellite into this popular fast-paced poker event from just £0.60p during the week.
Wednesday – The Rebuy Open – £5,000 Guaranteed – 2,000 Starting Chips, 12 minute blinds, £11 buy in. Add ons available of 4,000 chips and you can rebuy into the event if you are knocked out as many times as you like before the first break in the tournament.
Thursday – Bounty Hunter – £8,000 Guaranteed – 5,000 Starting Chips, 12 minute blinds and £33 buy in. Similar to Monday's tournament but simply a slightly higher prize pool available to be won. Satellites available from £1.60
Friday – Bounty Hunter – £6,000 Guaranteed – 5,000 Starting Chips, 12 minute blinds and £33 buy in – Same details as Thursday's tournament, only playing for a slightly smaller prize pool.
Saturday – Bounty Hunter – £8,000 Guaranteed – 5,000 Starting Chips, 12 minute blinds and £33 buy in, essentially the same tournament offered as on Thursday night.
Sky Poker's Daily Mini Tournaments
Taking place at 8.30pm on the each day of the week is a Sky Poker Daily Mini Tournament. These are the lower-buy in options available for punters that don't want to pay the higher buy ins at the Daily Main Events. Each night, there is a Mini Tournament with a smaller buy in and these events are a mix of Rebuy, Bounty Hunter and other events similar to the format of the Daily Main Tournaments.
You can multi-table and play in both the Daily Mini and Daily Main tournaments with Sky Poker and if you can manage to win through to the final table of six players in each event on the same night, then you will qualify for a Sky Poker Final Table Jackpot bonus. That bonus could be as much as £5,000 on top of your winnings in the tournament, if you manage to win both events.
Deep Stack Tournaments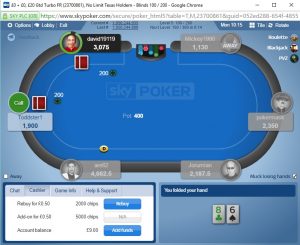 If you are a player that likes to be patient and are happy to spend a large amount of time working your way through a tournament, without the threat of elimination quickly, or being blinded out of an event due to a lack of chips, then Sky Poker's Deep Stack tournaments are well worth a closer look.
These events are available to play in each day and are relatively cheap to play in (entry costs from just £2.20 depending on the event) and in these events, all players start with 5,000 chips and blinds rising every 12 minutes.
Sky Poker Daily Speed Bounty Hunter Events (£100 upwards)
Bounty Hunter Poker is especially popular on Sky Poker and it is one of the most popular formats of the game on the site, attracting plenty of players to the tournaments at all times of the day. If you have limited time to play then Sky Poker have a great solution with the Speed Bounty Hunter multi table tournaments. These take place every day at various times of the day and for a variety of different buy ins with guaranteed prize of £100 and more on offer.
As with all Bounty Hunter events, you win 75% of your opponents Bounty, with 25% of their bounty placed on your head, when you eliminate a player from the game. These events are readily available for a range of prices and at a variety of times throughout the day, though the evening tournaments are usually more popular.
£20 Daily Freerolls
They may not be the biggest in terms of price to play, or prize on offer but in terms of popularity on the site and sheer number of players, the Daily Freeroll events are always worth a closer look. They are free to enter (provided you have earned or own some Sky Poker Points – its 10 poker points to enter) and there is a prize pool of £20 in each of the four daily tournaments.
The tournaments take place at various times throughout the day allowing you to play when it suits you best and you can register after the event has started.