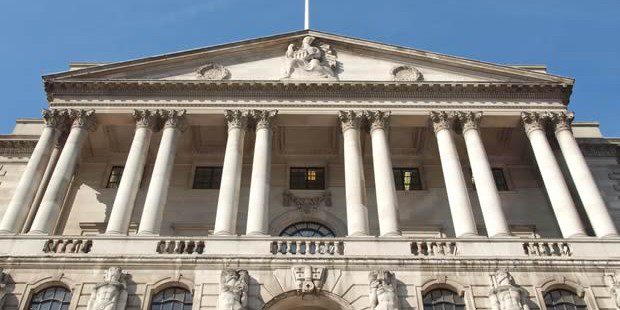 Guide To Placing Banker Bets On Bet365 Sports
When placing a sports bet with
Bet365
, many people are aware of the format of the standard betting slip. This will outline your selection(s) on your sheet and also display the different types of bets
available.
However, what many people don't realise is that in addition to standard betting, you can also place a different type of bet.
These are banker bets and they are accessed by clicking on the standard tab and selecting the "Banker" option as shown below: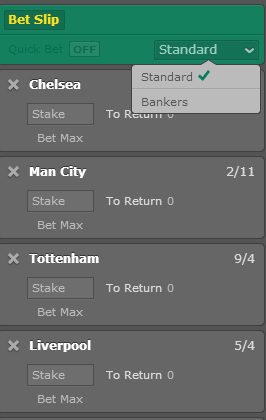 Before we begin to look at banker bets in more detail, if you are not yet a member of Bet365 Sport but would like to join, then click on the link to get the latest information about the Bet365 bonus code.
Sky New Customer £10 No Deposit Bonus
What is a banker bet at bet365?
A banker bet at bet365 is a part of a system bet (like an accumulator, for example) that must succeed, otherwise the entire wager fails. Because of the importance of the banker bet succeeding, the bettor will usually choose their banker bet to be the bet within a system that they feel has the highest probability of success.
In the graphic below, you can see I have selected banker bets option on the Bet365 betting slip and made four selections from a weekend of soccer games in the English Premier League. Looking at the selections, I have decided that Chelsea are the team that I feel are most likely will be successful, so I decide to make them my banker bet.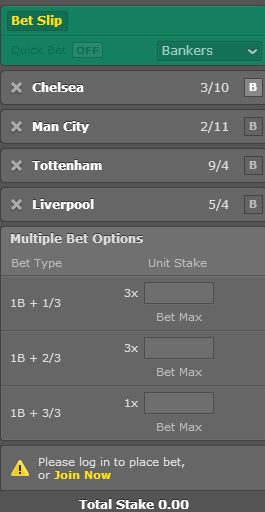 This is achieved by clicking the box with the 'B' in next to the team name.
Once I have made this selection, another box then appears which lists the different combinations of bets available with my banker selection.
As you can see from the graphic there are three different types of bets I can do based on my banker selection plus the other three selections on the coupon.
I can place three treble bets using the banker selection plus two from three of the other teams selected.  I can also place three double bets using the banker selection plus each of the three other selections. Finally, I can also place one four-team accumulator using the banker selection and all three of the other selections.
All you need to do to place the banker bet is to enter into each of the available bets how much you would wish to stake on each individual bet. Remembering that your stake will be multiplied by the number of bets that there are in each section.
So for example, if I decide to back all the available selections with my banker bet at £10 per selection, then I would pay £10 x 3 for my treble bets, £10 x 3 for my double bets plus £10 x 1 for the four-team accumulator, for a total cost of £70.
Once you have decided which of the bets you want to back, simply enter your wager in the box provided and then click on the yellow Place Bet button. This will then place your bet and the money will be deducted from your account.
Can you select more than one 'banker bet' selection?
Yes you certainly can select more than one banker bet from your selections, but be aware that for any of your bets to win, you will need any banker bets you select to succeed. If just one banker bet fails then all the bets you make will also fail.
In the example below you can see that I have selected Manchester City alongside Chelsea as my second banker bet. Now that I have selected two bankers, this alters the bets available to me.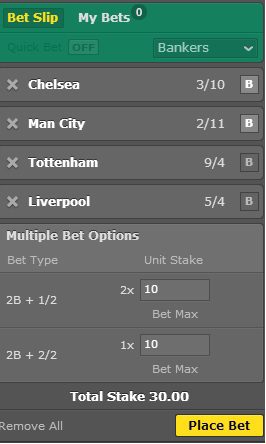 As you can see in the graphic above, I now have two banker bets (denoted by the 2B on the slip) plus I can pair them with either one of the two remaining selections (1/2 for two separate bets) or both the remaining selections (2/2) in a single four team acca.
However seeing as there are only three bets to be made using this method, the total amount for the bets to be paid, for the same £10 stake, would be £30.
Is it worth selecting more than one banker bet?
In truth, the answer to this is that it very much depends. Firstly on how confident you are on your banker selection(s) coming in and secondly, on how many selections you have made for your coupon.
As a general rule of thumb, you should only select matches you are confident where your selection will succeed as banker bets. In the example shown above of a four team coupon, I would generally only select one as a banker bet.
However, if you have an eight or ten team accumulator, then it can be a good idea to have a second, or even a third banker, especially if you want to keep the cost of the total bet down.
Do banker bets offer good value for money and a better chance of success?
The answer to this depends on how good you are at selecting your banker bets. Using banker bets is a good way to build up a series of doubles, trebles and acca's without backing single bets. It is considerably cheaper to back all the possible doubles and trebles using a banker bet than it is to do likewise on a standard bet.
On a standard Bet365 coupon for example, with four selections you could place 1 four-fold accumulator, 4 trebles and six doubles, which would cost you £110 for the same £10 stake outlined above. With a banker bet, based one one banker and three other selections you'd pay £70 to cover all available bets.
With two bankers, you'd pay £30 to cover all available bets.
The key to success comes from you being able to pick banker bets and the better the odds you can pick your banker bets at, then the better you are going to be paid out should any of the bets you make using this bet come in.